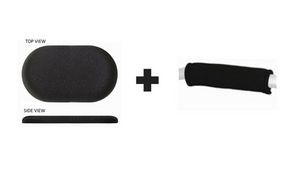 Kayak Package (Gel Infused Seat & Paddle Cover)
Regular price $45.95 $39.05 Sale
This package includes:
4" X 8" Flat Oval Non Skid GEL Pad (Single)
Single 4" x 8" x 3/8" flat oval GEL pad with a special non-skid bottom. Improve your COMFORT by padding places where you rest your elbow wrist or other tender part. Neoprene nylon cover for comfort and ease of cleaning. This pad is movable and does not have an adhesive back. Sold individually. Designed for the ultimate in COMFORT and PROTECTION and can AID in HEALING existing sores and/or abrasions.
8" Tool Handle Medical Grade Gel Covers (Pair)
Get ready to experience the unmatched gripping power of our innovative gel handle pads!
These heavy duty hand grips not only provide a stable gripping surface, they also protect the hands and fingers from calluses, sores and minor abrasions.
Each order includes one pair of 8" gel grip pads. You can use these protective pads on the frames of most traditional U-shaped walkers, bicycle handlebars, luggage and household tools with tubular shaped handles such as mops, brooms, rakes, garden shears and so much more. (Please take into consideration that these orthotic gel pads are not for use on walkers, tools or bikes with unusually shaped handles.)
• Extremely Easy To Use 
• Soft, Yet Incredibly Durable 
• Made Out Of a Medical Grade Gel Infused Material 
• Designed to Fit Most Traditional Walkers and Rollators 
• Can Also Be Used on Handles of Various Household Tools 
• Feature a Secure Velcro Closure for Added Safety 
• Conveniently Machine Washable 
• 100% CUSTOMER SATISFACTION GUARANTEED!