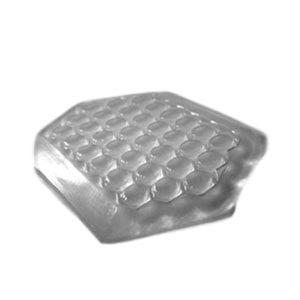 Big Josh's Hexagonal 3D Dimensions Flexible, Freezable, Easy to Use 12" x 8.5" x 0.5" Dimensional Gel Cold Pack
Regular price $69.50 Sale
Have you ever tried to use an ice pack only to have it leak all over the place and make a huge mess? Well, we here at Big Josh's Gel have got the perfect solution for someone like you. Made out of our top grade silicone gel and featuring a 3D dimensional shape, these cold packs are much more effective than those ice packs or cooling pads that you are used to. With a rectangular shape and smooth edges, this pack can be used for a range of things. Our entire pad is only 1/2
EFFECTIVE PRESSURE RELIEF: Now you can get some much needed relief with the help of our dimensional gel cold pack! Use it to relief sore muscles after a rigorous workout, use it to soothe an achy back or use it to help speed up the recovery of a sports in
UNIQUE 3D SHAPE: The innovative rectangular 3D hexagonal shape of the gel pack has been designed to offer a cushion that maintains proper support without flattening.
LARGE SIZE GEL PAD: Measuring 12" x 8.5" x 0.5", these gel packs are much larger than other similar ones that are currently on the market. This allows you to treat larger areas such as your back or shoulders.
FLEXIBLE COLD PACK: The gel retains cold and does not make a mess like ice, but it also stays flexible enough for you to adjust it when desired.
MULTIPURPOSE: Use these cold packs for just about anything. Unlike other gel packs, you safely can use ours either over or under covers depending on your particular needs.