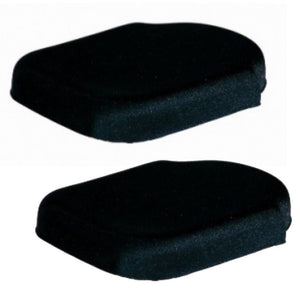 Big Josh's 6" x 8" Strong, Breathable, Washable Gel & Foam Wheelchair Footplate Pads
Regular price $98.95 Sale
Those who use a wheelchair often suffer from foot or leg sores due to the hardness of the metal used to construct the chair. This is why we here at Big Josh's Gel have worked diligently to create a product that would minimize or completely alleviate these kind of sores and abrasions experienced by those who use wheelchairs to get around. These padded footplates have been expertly developed to offer you the all day comfort you need and desire. Made out of a gel padding and covered with breathable stretch nylon, the footplates by Big Josh's Gel soften impacts, reduce the occurrence of sores and allow air to flow in order to keep you cool and comfy. Our gel padding footplates measure 6 x 8
SECURELY BOLTS ON: These padded footplates by Big Josh's Gel securely bolt on to the base of MOST regular adult sized wheelchairs to provide cushioned support for the feet and legs.
EASY TO INSTALL: Unlike other wheelchair footplate pads, ours are easy to install and come with easy-to-read instructions. Since they bolt right onto your wheelchair, they are preferred over those other gel footplate pads which slip, slide and completely
HARDWARE INCLUDED: All of the hardware you need to properly install our gel wheelchair pads is included with each order, which makes installation quick and simple.
CONTOURED SHAPE: The contoured shape of the footplate gel pads provides gentle comfort while allowing air to flow that helps the skin breathe. Use the pads to prevent sores as well as to help in the healing process of existing sores or abrasions.
REMOVABLE, WASHABLE: Our wheelchair gel pads are conveniently removable and washable. If the pads ever become dirty, simply remove them and wipe them down with a damp cloth , air dry and then replace.